A POP-UP DINING EXPERIENCE
The Portable Dining Unit (PDU) is an easy-to-transport, temporary structure for mobile dining. Designed with the young emerging chef in mind, the entire unit is comprised of collapsible screens, portable tables and folding chairs. The lightweight translucent polycarbonate shell unfolds like a giant piece of origami to create an intimate dining scene, while allowing light to softly filter through. The open-source template and can be downloaded, created with a laser cutter and quickly constructed with zip ties and a few friends.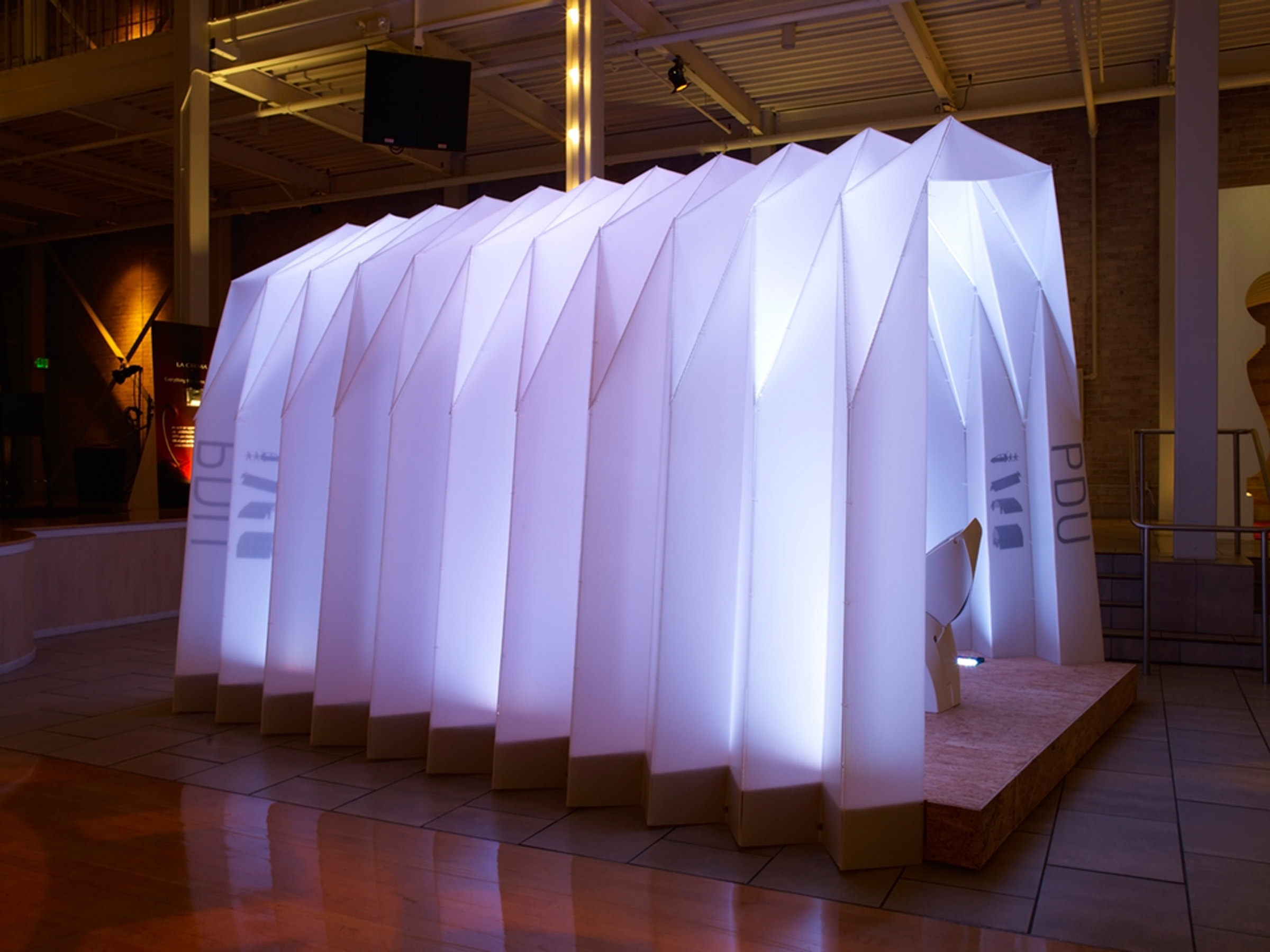 Client: DIFFA, for Dining By Design
Architectural Firm: EDG
Year Constructed: 2012
Awards: AIA Merit Award - "Small Projects", IIDA Honor Award - "Against The Odds"
Featured On: Architizer
INTERIOR
The chandelier-like installation is an art piece crafted from neon drinking straws. The dining setting is comprised of portable tables and folding chairs, optimized for the pop-up dining experience.
EXTERIOR SHELL
The exterior shell is made from 1/8-in. corrugated polycarbonate flat-packed panels and zip ties. Assembly requires just two people, no building expertise needed. Instructions are depicted in graphic form on one of the panels.
MATERIAL COSTS
The total cost of construction materials is approximately $2000. Furnishing costs (not included) vary according to the design requirements.
RESEARCH & TESTING
I was part of the design-build team that created this dining concept for Dining By Design, an annual fundraiser for DIFFA. We researched and tested various types of materials that were affordable, weatherproof, and could provide enough structural support. We also tested various forms to optimize the structure for rapid deployment and disassembly.